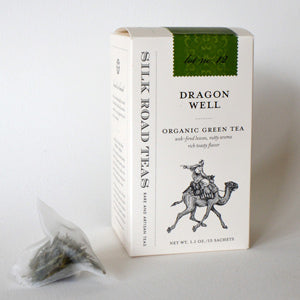 Organic Dragon Well
from
$13.50
Sourced from an organic farm on an island off the coast of Zhejiang Province, this green tea has characteristically flat leaves tinged with a yellow-golden color. The fresh green leaves brew to a nutty, vegetal flavor, with a lingering, sweet aftertaste. This is a refreshing green tea with body, yet is light and clean in taste. An excellent value for this renowned green tea.
Steep in water temperature of 185F-205F for 2-3 minutes. 
Ingredients: full leaf green tea from Zhejiang Province. Contains Caffeine.
15 sachets per box.